OS X: How to hide menu bar and dock when opening an application
I have an application that i like using it in windowed mode. But since there's the menu bar up top it doesn't seem to completly enter the screen. So I had to do something to autohide the bar whenever i use this app.
I found a very easy way to do this.
First open Finder and go to the folder where the app is, right-click on it and press Show Package Contents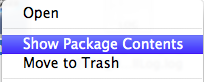 This will open up a new finder windows displaying a folder called Contents. Enter that folder.
Now you will see a file, Info.plist. Open it with a plist editor like PlistEdit Pro . I like to use TextMate for this.
After opening the file look for NSAppleScriptEnabled:



Right above that line add the following: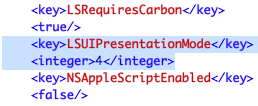 Save and close, and now open the application. Voila! No more menubar. If you move your mouse over the top of the screen the menubar will apear as long as you keep your mouse on it.